214km from Sevilla
It was due to be a short and sweet day into the capital of the region of Extremadura, and it turned out to be all MUD.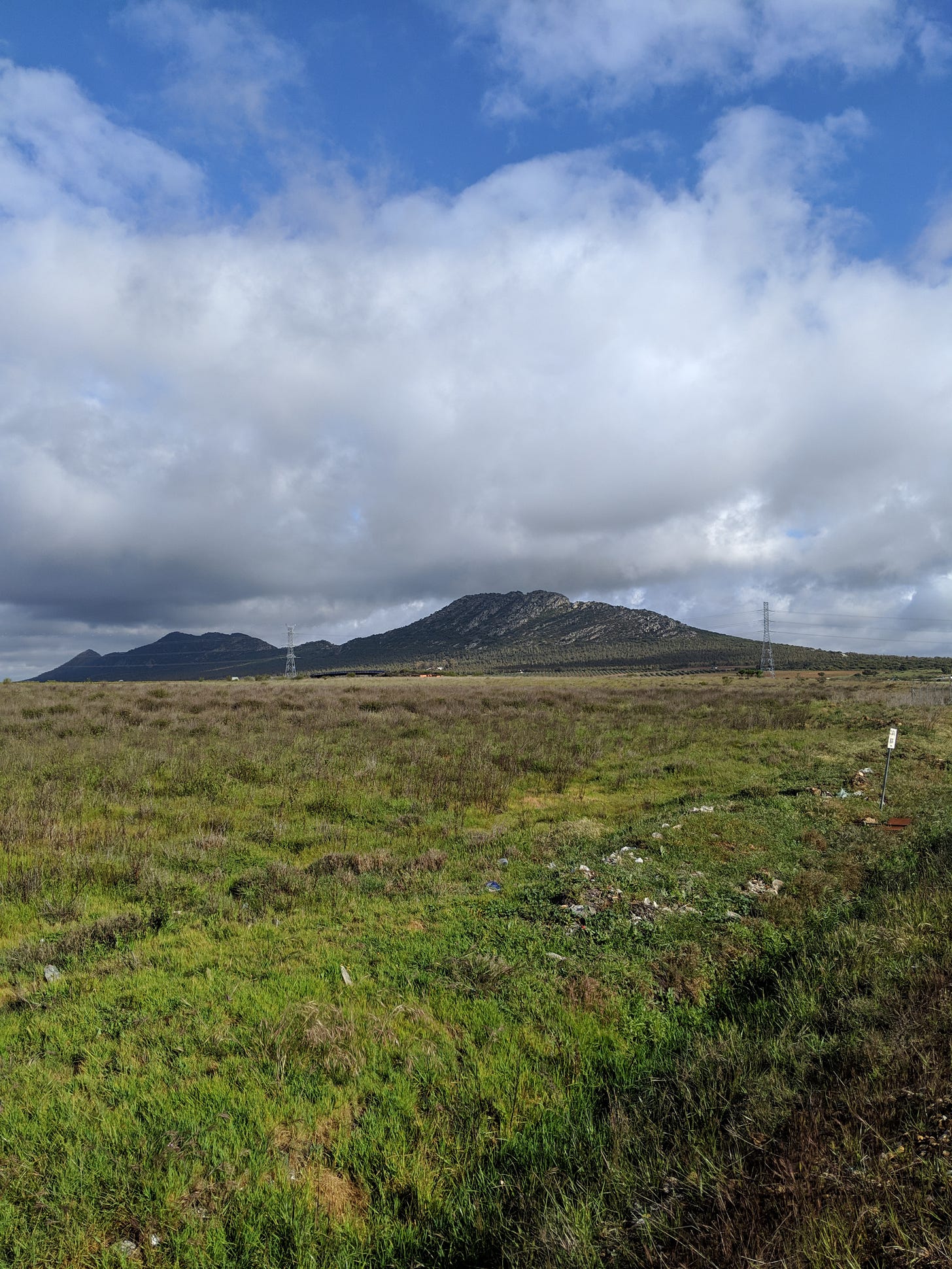 Almost the entire route was on a dirt track which had become some sort of red mud and wheat stew from the rain overnight and just ten minutes into the day's walk my boots - which I had FINALLY got to dry from the rain three days before - had, this time, become completely soaked through from toe to heel.
It felt a lot like this.
The sun was out for the second half of the walk though and one cute and gigantic dog came up to me and said hello which is always a guaranteed mood-boost. Plus, I've passed 200km!
There was a bit of traffic on the route today.
Today brought me to Mérida, a historical city with lots of interesting old architecture and ruins. The albergue was beautiful on the outside, a lovely building right on the river than ran through the city. Inside wasn't as exciting sadly, but it was good enough for what we needed, which is only a place to wash and a place to sleep.
I once again met with some familiar faces from the last few days walking, and we all headed out to dinner - being in a city, we were spoiled for choice and even went for a quick drink at a fancy bar beforehand.
Looking as tired as I feel!
Not much else to report from the day. Tomorrow will hopefully be an actually short day at 17km, and I'm already looking forward to leaving the much-too-busy city and heading back into rural Spain.
Until next time,
A x
---
About me
Hey! Ameena here - I'm a freelance portraiture and documentary photographer based in London. I enjoy telling stories about adventure, the outdoors, and our relationship with the natural world.
In this newsletter, I'm digitally retracing my steps on the Camino de Santiago. From March to May 2019, over 45 days, I walked over 900km along the Via de la Plata (the Silver Way) route of the Camino de Santiago pilgrimage in Spain.
Donate a cup of tea?
If you like what you read, you can show some love by donating a strong cup of tea. This twitchy-eyed creative will thank you for the support and the caffeine!
You can also support me for free by pressing the little heart button, sharing this newsletter with others, and leaving a comment here, or find me on Twitter and Instagram.