149km from Sevilla
The day began cold and damp but still a bit blue; a mean trick, considering what was to come.
I'd started off a bit late today, and less than an hour in it began to rain. Not long after, I was soaked. My rain jacket, which was an old one, apparently wasn't a rain jacket anymore. My boots, which faithfully saw me through my first Camino, leaked instantly. It was all very grim, and since it was really pissing down, I decided to make a detour as soon as I got to the next village and find a cafe. Even grimmer, the first one I came to was closed. I asked the only person I saw out and about, and he was from out of town and had no idea. Not the nicest of mornings.
At this point, I was wandering around the village slightly aimlessly, having a little strop. I still had 20km to go after this. I took a look at Maps again and saw a little cafe on the edge of the village, a bit further out than I'd hoped for, especially if it was also closed, but I had a go. I was in luck! It turned out to be open, a restaurant cafe on the edge of the village and on the main road, mostly for those passing by.
I sat down, had two cups of hot tea back to back, dried off a little, and sat there for a while in a bit of a mood. The most depressing thing in bad weather is having clothes that don't keep you dry or warm, especially if you're like me and are always cold. As soon as I got to the next city, I was buying a new jacket.
After my tea break, I was happy to see the sun return a little and set off again, trying to stay positive. It didn't rain heavily again for a long time so I spent the rest of the walk somewhat happily trotting through the mud and mad winds.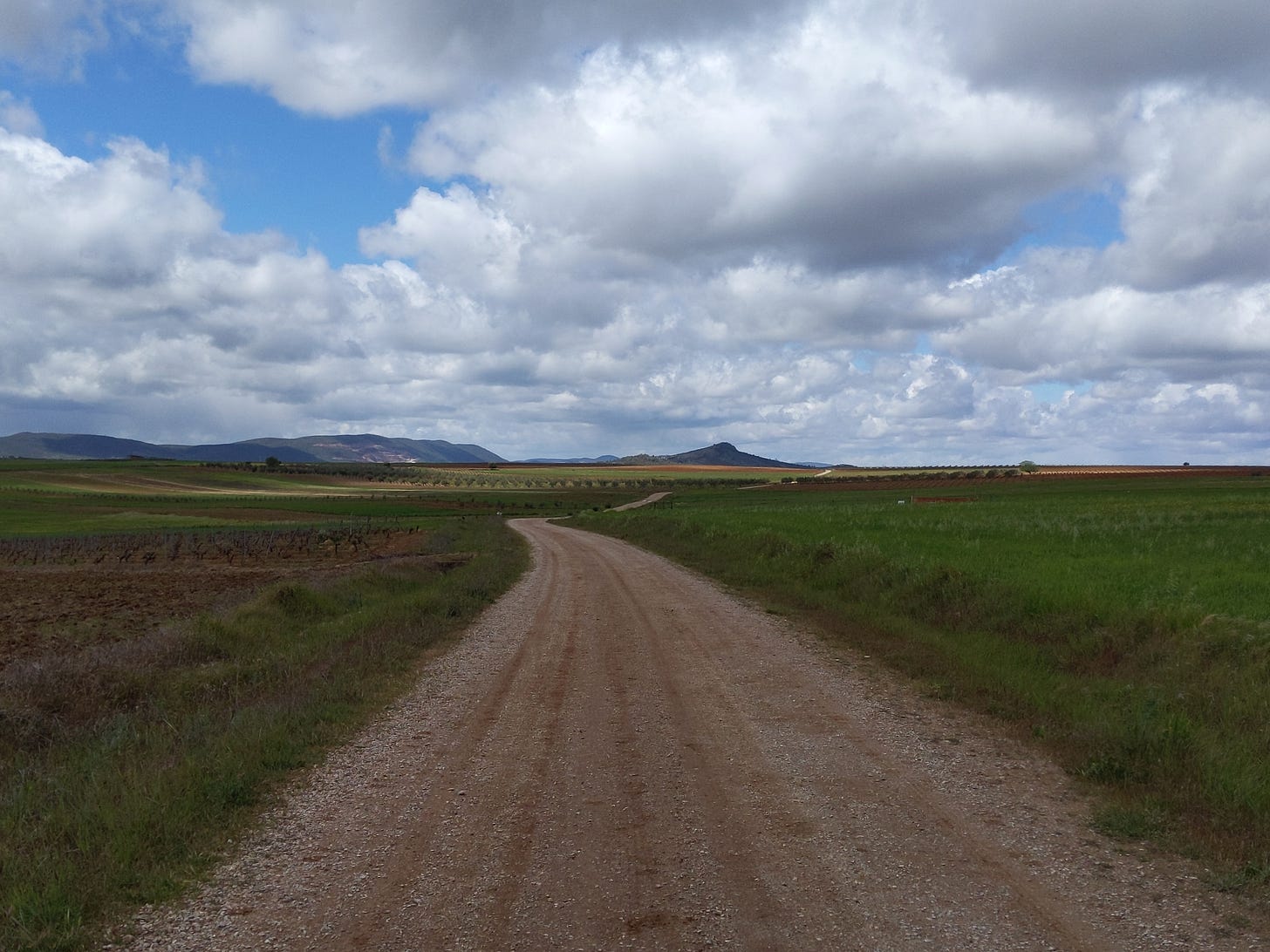 There are lots of pig farms in this part of Spain, and walking past you can hear the squealing and screaming on the wind straight out of a horror film. Someone mentioned later about slaughterhouses. I'm glad I didn't realise that when I was walking by them.
Just as I was coming up to the final hour of the walk, and another village where I was thinking about stopping for lunch, the weather turned again. I was walking along an open trail and could literally see the rain coming for me.
I power walked so fast I think I set a personal best. I entered town just as the skies opened up and it started HAILING. The weather was really doing its thing today. I hid in a doorway until it stopped and decided I would definitely stop here for lunch. As soon as I entered the restaurant, the sun came out and the sky turned bright bold blue. Typical!
I treated myself to a really tasty lunch and then walked the last hour under the warming rays of sun into Zafra, my final destination. Not a bad end to the day.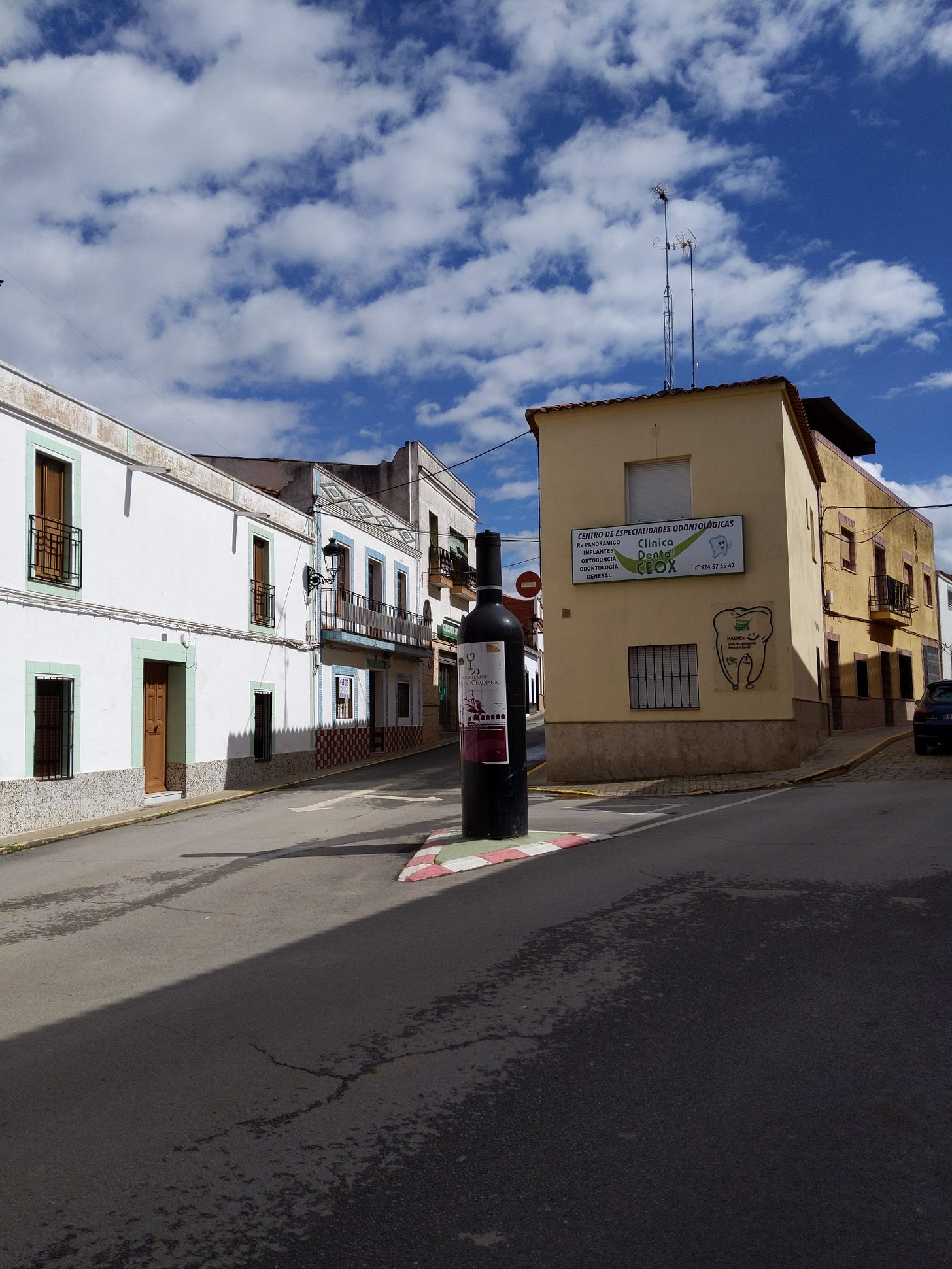 Here I found Anthony and Spela again, in a big albergue that had some controversial reviews. It seemed to be an old house, a huge one seemingly from an old rich family, with a huge bathroom that had a massive bathtub. Of course, it was "out of order". And of course, this was the only bathroom available, to be shared by way too many people. After a dismally cold shower, it was time to shop for food for dinner; no eating out tonight.
The hospitalera was a fairly brusque older woman that most of the others didn't get along with, but I had a bit of an advantage; I'm pretty used to brusque Spanish women in that my mum is Spanish and I grew up with them. It takes some getting used to this particular kind of Spanish bluntness, which can be easily mistaken for rudeness, and there was no shortage of drama that evening of walkers who were tired and didn't want to deal with it. Another advantage I had was that I could speak to her in Spanish. We spoke a little and at the end of the evening, when everything was closing up, I asked if she would let me take the spare normal bed and she let me do so. The others watched me enviously from their bunk beds as I waltzed into bed laughing at their jealously. No, not really, but I did appreciate the better sleep I had that night.
Until next time,
A x
---
Hey! I'm a freelance portraiture and documentary photographer based in London. I enjoy telling stories about adventure, the outdoors, and our relationship with the natural world.
In this newsletter, I'm digitally retracing my steps on the Camino de Santiago. From March to May 2019, over 45 days, I walked over 900km along the Via de la Plata (the Silver Way) route of the Camino de Santiago pilgrimage in Spain.
If you like what you read and would like to donate a strong cup of tea, you can. This twitchy-eyed creative will thank you for the support and the caffeine.
You can also support me for free by pressing the little heart button, sharing this newsletter with others, and leaving a comment. You can also find me on Twitter and Instagram.