197km from Sevilla
Note: Hello everyone! Hope you've all been well? You may have noticed a bit of silence this past week as I didn't post last Sunday or Wednesday as usual. I had a mad week with several deadlines coming together simultaneously, including a workshop for the Brighton Photo Fringe which involved a deliciously brisk walk along the South Downs Way coastal path - food for the body, brain and soul (and hair thanks to the sea salt!). This was one of the only "proper" walks I've done this year, and I relished the chance to walk somewhere new and so full of green. It's back to the usual Sunday and Wednesday posts from today :)
-
This was always set to be a long day. The trail today ran along a historical Roman road for almost the entire 28km. It was one long, straight road of mud through repetitive, glum fields. Though the weather wasn't as bad as it has been, the howling wind, dark clouds and constant threat of heavy rain gets a bit tired after several days of the same.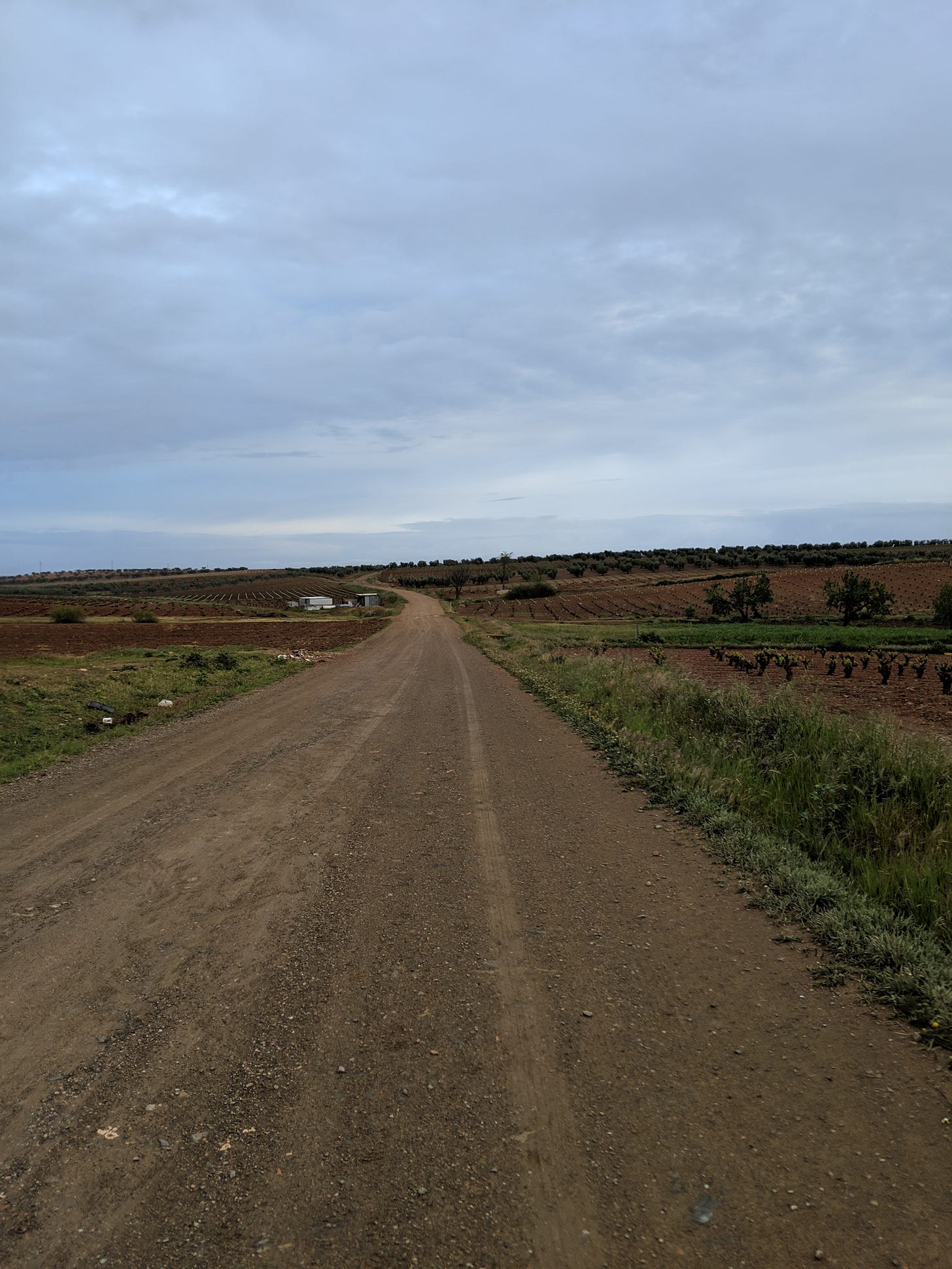 The unchanging and unsheltered path that looked like it would genuinely never end made it that much worse. It was jarring too; the kind of landscape which lets you see through time, when you realise those small dots in your eyes are friends and strangers at least thirty, forty-five minutes ahead.
Or in my case, seeing into the past. I felt like I was moving slowly that day since several people overtook me. I'm not so bothered about the being overtaken part but I really hated the sound of footsteps behind me, and being able to see those little dots become bigger and loud with steps truly grated on my nerves and mood.
Looking back now I realise this was partly because as a woman walking we're always so aware as to what is going on behind us - and who. While I've never had any problems on the Camino, suspicion and therefore anxiety are always in the back of my mind, never completely free of worry of "what if".
On a positive note, I did also meet several friendly, goofy dogs, and a gorgeous family of three who were completely covered in mud.
It wasn't a bad walking day in the end and I managed to power through and get into town about mid-afternoon. I'm getting a little faster now, but bloody hell did my legs and feet ache after!
Tonight's accommodation was one of the first times I'd planned ahead and booked, and I booked a private room to share with Spela. There were a few of us who did so after hearing bad reviews of the only albergue in town, and it was truly a short relief from cold rooms and early wake-ups - and the world snoring championships! Not to mention there was a restaurant downstairs, and we allowed ourselves the luxury of not even leaving the building.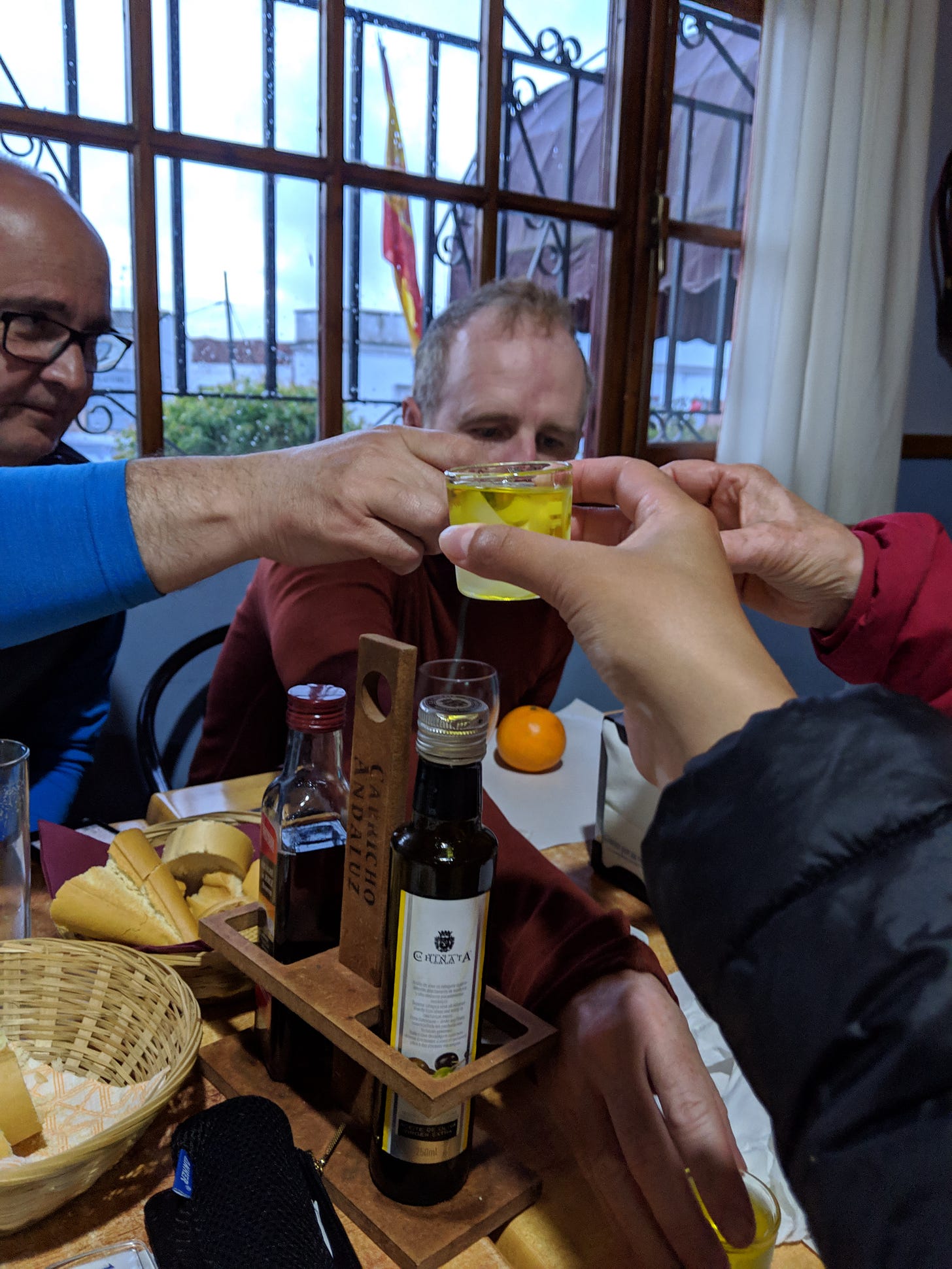 The credencial, or Camino "passport" and the stamps we collect along the way.
I've lost count now of how many times I've met up with essentially the same people again and again, but as always happens on the Camino, we've become a little Camino family. I've mentioned this already but these absolutely wonderful communities and families that form temporarily on the Camino are one of the best things about it.
Until next time,
A x
About me
Hey! Ameena here - I'm a freelance portraiture and documentary photographer based in London. I enjoy telling stories about adventure, the outdoors, and our relationship with the natural world.
In this newsletter, I'm digitally retracing my steps on the Camino de Santiago. From March to May 2019, over 45 days, I walked over 900km along the Via de la Plata (the Silver Way) route of the Camino de Santiago pilgrimage in Spain.
Donate a cup of tea?
If you like what you read, you can show some love by donating a strong cup of tea. This twitchy-eyed creative will thank you for the support and the caffeine!
You can also support me for free by pressing the little heart button, sharing this newsletter with others, and leaving a comment here, or find me on Twitter and Instagram.